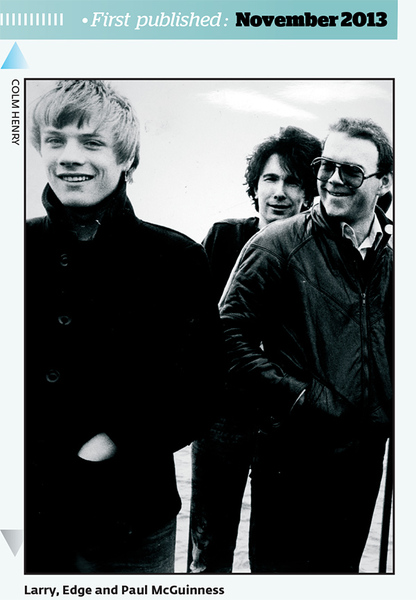 North Side Story, the definitive account of the emergence of U2 in Dublin, is a limited edition publication which comes with a U2.com subscription. Among the scores of revealing interviews is one with Paul McGuinness and in this extract he recalls his earliest days in the music business - and first meeting U2.
'I first got involved in the music business managing Spud, who I suppose were a kind of a poor man's Horslips. This was in the mid '70s. They didn't write their own songs. They did bluegrass and a bit of trad, which was never going to be easy to sell internationally. Initially they didn't have a drummer and that meant that they were only able to do cabaret gigs and pub gigs – so there was no future in that. And so when I started to manage them I encouraged them to get a drummer, which was pretty obvious really. But it meant that they could do concerts and it helped me to get them gigs outside Ireland.
One important thing I learned managing Spud was this. They were about the same age as I was. They were in their mid twenties and they had started to get married and have kids and so their attitude to touring was pretty limited and lacking in ambition. They didn't want to spend too much time on the road. They needed to get home and be with their families. And so I realised that at 25 or 26 or whatever, they were too old to make it. It needed a level of commitment that they couldn't give. One place where we did get a bit of traction with Spud was Sweden. That was a little bit to do with the exchange rates, so that you could actually go there and make a bit of money. And so for a while I became a sort of agent, booking tours in Sweden. I also managed the Thom Moore band, Midnight Well, but I knew they were never going to be a really big band internationally. So I was always looking for something else, ideally a baby band, with youth on their side, that you could start with from scratch and aim to take over the world with.
I always felt that the Horslips model was a good one. I knew the guys in the band and their manager Michael Deeney was a friend of mine. What they did in business terms was very significant. They based themselves in Ireland and had their own record label – and so they controlled the recordings and they licensed the records for release outside Ireland. So they showed that a band could be based in Ireland and run their operation from here, which was what we eventually did with U2. When the punk thing started to happen in the UK, The Boomtown Rats came along and they were very determined to get out of Ireland as quickly as they could. They were very aggressive in their approach to getting a deal. They were very good at generating publicity and at selling themselves, so there was a lot to be learnt from them. So I was observing the business and how it operates – and doing things like reading Billboard magazine. And all the time, I was on the lookout for a young band that
would have the potential to become internationally successful.
U2, of course, were very young when they started out. They formed at Mount Temple which was a very liberal school in terms of its music policy. The music teacher there Albert Bradshaw was a remarkable man and they actually encouraged bands to play. The most important thing, I would say, was that they allowed the band to rehearse there, which was of huge significance, because a place to rehearse is the hardest thing for a young band to find. They won that talent competition in Limerick – at which Jackie Hayden was one of the judges. And the prize included studio time to do a demo, which they recorded in Keystone Studios. So they had begun to make things happen.
Adam had been managing the band up to that point and he got Bill Graham of Hot Press along to one of their rehearsals, I'm not sure where. They played some songs, which Bill immediately spotted were Ramones songs, which was a bit embarrassing! But he was impressed all the same. It is well documented that it was Bill who subsequently introduced me to the band and told me that I was going to manage them. The first time I saw them was in the Project Arts Centre, in June of 1978, supporting a band called The Gamblers – who as it happens were managed by my 16 year old sister Katy. I didn't like to say it to her, but U2 were clearly the better band.
What struck me most about U2 that night was that they had presence. They weren't shy in the way a lot of Irish bands were shy. The Radiators From Space had come through a little bit earlier – they were sponsored to an extent by Eamon Carr of Horslips. But they were rather shy and quiet. U2 were very different in that respect. Bono was always at the front of the stage, trying to engage with the crowd, getting them to look into his eyes. And even if they were a bit unsophisticated at that point, they had an energy and a confidence about them. They looked like a proper band on stage. And when I spoke to them, I could see immediately that they were smart. They were ambitious. And they knew that you had to work hard if you were going to become successful. And they were prepared to do that, in a way that a lot of other bands weren't.
They were also interested in every aspect of the process. They were interested in photography. They were interested in design. And so they were good at finding people who could become collaborators. Steve Averill, who of course had given them their name, was working with them. And though Bill Graham wasn't a collaborator as such, he was a very big influence at that stage. So they were very intelligent and tuned in. They wanted to know how everything worked. I started to manage them that night – at least I told them that night that I would and we spent a few months skirting around one another trying to work out who was going to do what and whether we were on the same wavelength. And, it turned out, we were.'
Commissioned from the Hot Press team in Ireland, North Side Story covers six formative years from 1978 to 1983, from the first single, 'U23', to the live album, Under A Blood Red Sky. Running to 274 pages, this heavyweight book of rare photos, original interviews, diaries, letters and profiles comes with 'North & South Of The River, Wandering In U2's Dublin', a poster-size map charting U2's Dublin.

Find out more and get your own copy of North Side Story. (Current subscriber? Click here to renew.)