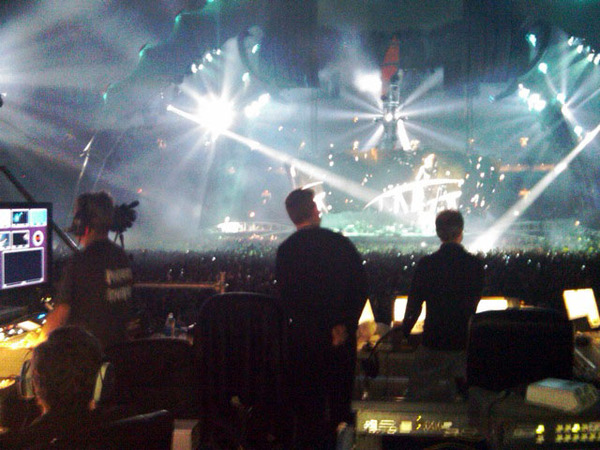 The band have been in Vancouver for a couple of days, they arrived early for a crew party to say goodbye to the 2009 360° Tour. Tonight they said goodbye to the fans, who have come out in record-breaking numbers night after night over the last few months.
And a great show in Vancouver to finish with - the BC Place is right next to the venue where the band shot the video for City of Blinding Lights on the Vertigo Tour, all those years ago. (Well, four of them anyway.) Great to see lots of the tour staff arriving on stage for a moment in the spotlight tonight, wearing the masks for Aung San Suu Kyi. Without them, this wouldn't have happened.
Or without you. Were you there tonight? What moment will you never surrender? If you were at the show
post your own review and add your photos
on our tour page.
Breathe
Get on Your Boots
Magnificent
Mysterious Ways
Beautiful Day
I Still Haven't Found What I'm Looking For
Stuck In A Moment
No Line on the Horizon
Elevation
In A Little While
Unknown Caller
Until The End of the World
Unforgettable Fire
City of Blinding Lights
Vertigo
I'll Go Crazy - Remix
Sunday Bloody Sunday
MLK
Walk On
One
Where The Streets Have No Name
Ultraviolet
With or Without You
Moment of Surrender