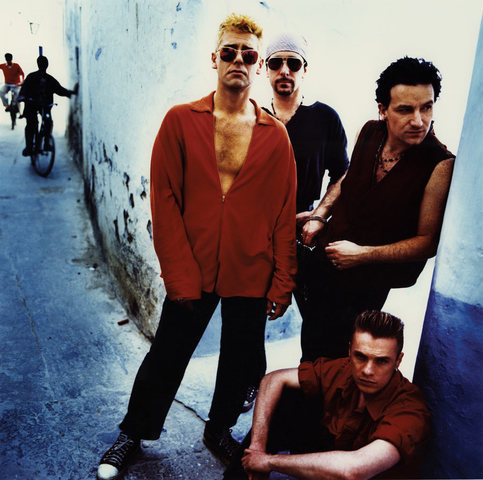 'Achtung Baby is an extravagant feat of misdirection,' reports the new Q Magazine in a 5 star review of the 20th anniversary rerelease. 'Wrapping the darkest, most searching lyrics of U2's career in a title taken from Mel Brook's's The Producers and all manner of audiovisual hoopla. 'Underneath that thin layer of trash it's blood and guts...'
Edge and Bono talked with
Edna Gunderson of USA Today
about revisiting the album. 'How big a deal do we make of an anniversary when we're in the middle of what we're doing now?' asks Edge. 'We had a hard time figuring that out. We're not a heritage act. We're still very active. But this record was so pivotal that we felt it was OK to revisit it.'
Rediscovering the wildly different lyrics and arrangements on the early "kindergarten" versions of the songs was revelatory,
reports Rolling Stone
. ' 'Tryin' to Throw Your Arms Around the World,' for instance, sounds like an Irish folk tune. 'The first time the paint goes on the canvas is a very, very exciting moment,' says Bono. He was intrigued by a line in the early 'Who's Gonna Ride Your Wild Horses' that recasts its story as a 'parasitic' love affair ('Your innocence I've experienced'), while the Edge is convinced the more restrained vocal melody on that version is superior to the released track.'
Catch some
exclusive excerpts
from Davis Guggenheim's documentary From The Sky Down, telling the real story behind the making of Achtung Baby.
Find the
complete tracklistings
on all five formats of the 20th anniversary edition, along with details on rare video, unreleased songs and b-sides
And check out
more news stories about the rerelease of Achtung Baby
.