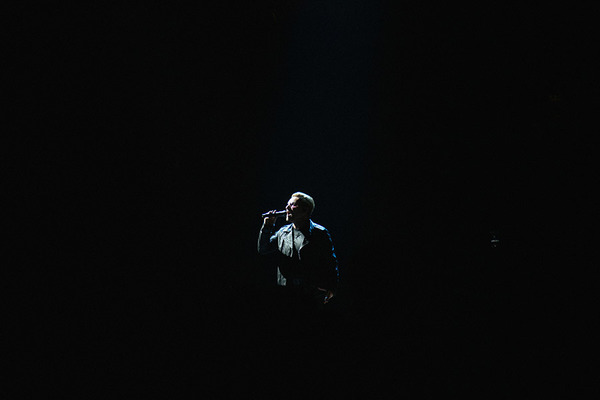 'I'm ready
Ready for the laughing gas
I'm ready
Ready for what's next...'
Zoo Station into the show tonight to mark the band's arrival in Berlin, Germany... a song made just down the road at Hansa Studios.
Went down pretty well online.
'Zoo Station, in its home town.' as @U2start put it.
'Expecting Mysterious Ways and meerkat. ZOO FREAKING STATION. I am floored.' (@ClaytonsKitten)
'OMG!! So ready for this laughing gas!!! Love this surprise!' (@menbono510)
'U2 bringing back Zoo Station in Berlin is just one of those things that just...feels right.' said @ryannichols7.
And after a blistering opening quartet of songs, Bono paused before 'Iris'.
'Here we are in the heart of Europe. The beating heart of Europe. We have many many friends here..sometimes we feel a little too at home here...'
According to the people who know these things (@U2gigs), this was the tenth time the band have played Berlin - they first performed here in 1981 on the Boy Tour. The city was written through the show tonight - with seven songs from Achtung Baby, the album that was born in this city nearly a quarter century ago.
Extraordinarily resonant moment when the great graffiti-strewn wall fell from the roof, dividing the venue in two for the The Fly - just like a wall once divided a city and a country.
Zoo Station was the biggest surprise, the first time it's been played live for nearly ten years, along with a snatch of Ultraviolet in Beautiful Day and everyone on song for One which closed the night.
'Mass-sing along to end the first night in Berlin, full of Achtung Baby.' (@U2start)
'Actually, One caps off the Achtung lovefest in Berlin. Counting The Fly intermission and Ultraviolet snippet, that's 7 AB songs.' (@u2gigs)
'It's So Cruel not to have Acrobat or Love Is Blindness to be missing from that list, yet U2 still throws its arms around the world.' (@atu2)
'Wow!! Well done #Berlin in singing #One The crowd is so awesome Bono didn't even have to sing it all!' (@Tinaburger)
If you were at the opening night in Berlin, tell us what it was like - add your own comments and photos here.