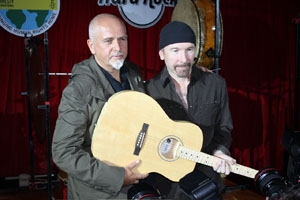 In London today, Edge presented Amnesty International's 2008 Ambassador of Conscience award to Peter Gabriel.

'Peter's been a great friend to myself and U2 as he has been to Amnesty,' recalled Edge. 'And that is a phenomenal thing, to have Peter on your side, because when Peter gets into something he has this unbelievable follow-through - I don't think there is anyone who has the determination of this man.'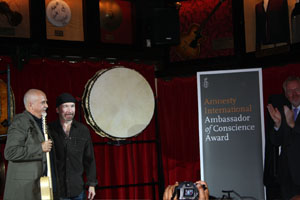 It was U2 who introduced Gabriel to Amnesty, when he joined them for the 1986 Conspiracy of Hope Tour, travelling North America to spotlight the work of the global human rights organisation.
And Gabriel never forgot Amnesty. Edge recalled how his song 'Biko' was such an inspiring moment each night on the tour, praised his unique role in placing 'world music' on the cultural map and later in marrying technology to campaigning with
WITNESS
, which harnesses video and online technologies to expose human rights abuses.
It was through touring with Amnesty, said Gabriel 'that I first met many people around the world engaged in human rights work. It was these people and their extraordinary stories of suffering and courage that I found impossible to walk away from, so the Ambassador of Conscience award means a great deal to me.'
Award Founder Bill Shipsey said 'Peter has been at the vanguard of the struggle for human rights and justice around the world for nearly a quarter of a century and has inspired many others to join that struggle. He is an Ambassador in the truest sense of the word.'
We caught up with Edge at today's ceremony to talk about U2's commitment to Amnesty... as well as Edge's part in the new documentary
It Might Get Loud
and the latest on how the band are getting on in the studio. More from that chat in the next few days.
Meantime, today's ceremony was also the launch for Amnesty's
Small Places Tour
, a worldwide series of gigs between now and December 10th to promote human rights on the sixtieth anniversary of the Universal Declaration of Human Rights. Events will be held in 46 countries including 11 September concerts in Namibia highlighting human rights in Zimbabwe; and in Estonia with REM where fans will engage in Amnesty International's campaign to release Burmese activist Aung San Suu Kyi and other political prisoners in Myanmar.