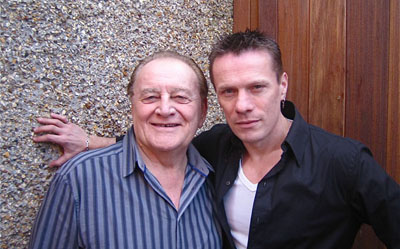 Tune in to RTE 2fm this Sunday to hear Larry talking about the new tour, playing live, the album and a changing music business.
Interviewed by RTE 2fm DJ Larry Gogan, with whom Larry goes way back, he talks about what it took to get U2 back into a studio again, how the music business has changed over the years, how his dad got him into his first band and what fans can expect of the new show.
On recording the new album
"Bono was away and, on all those very long plane journeys over various continents, he gets an opportunity to write a lot of lyrics, that's what he spends of lot of his time doing."
On stage
"On stage for many years there are moments where certain songs change the atmosphere in the room. The one song that does that consistently is "Where the Streets Have No Name". It's one of those great moments. It always makes me laugh thinking of Brian Eno trying to burn the tape because he couldn't get his head around the song".
On the new live shows
"It's like a spaceship... and I know we've done spaceships before and walked out of citrus fruits! But this allows us to be placed close to the centre of the stadium. It hasn't been done before. Essentially it's trying to bring the band closer to the audience and that's the challenge."
On the music business
"The music business has changed so dramatically now. It's not about how many albums you sell. People don't buy albums, it's about individual songs. It's very difficult for young bands, they end up having to do things and sell themselves in a way that would have just been offensive when we were starting out."
Download the full interview on
RTE 2fm on Sunday
and check out The Two Larry's podcast.